Glenwood Springs Subaru is excited to announce its participation in Subaru's new Share the Love campaign, which arranges for individual Subaru dealerships to dedicate themselves to aiding a local charity. In order to support this mission, Glenwood Springs Subaru has opted to devote its funding and energy to supporting Raising a Reader, an organization dedicated to helping young children learn to read.
The Program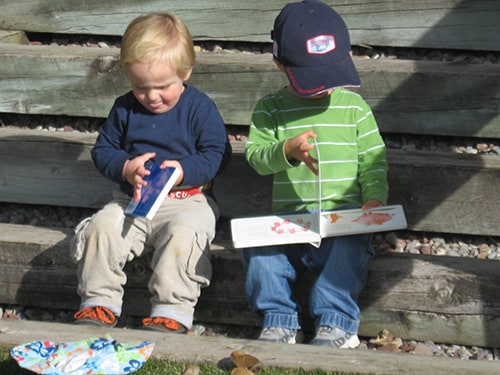 Raising a Reader is a national organization that helps families build childhood literacy and school readiness in a few different ways. On the one hand, Raising a Reader widens access to books among under-privileged children by ensuring that every week, participating child return home with four books in a bright red book bag. At the end of the week, they return the books and replace them with four new ones, so that they have access to a continually changing library. On the other hand, Raising a Reader also hosts occasional workshops and group discussion that help parents read with their children—and teach them how to read to their children—thereby strengthening their ability to support their kids as they learn to read.
In particular, Raising a Reader is distinguished in four unique ways. First of all, the program makes sure that kids have access to books that feature texts with challenging vocabulary and syntactical structures and which thus allow them to exercise their minds effectively. Second, the program allows children to "own" the program by putting them in charge of their own bags and readings. Third, the program encourages children and parents to read together, thereby reinforcing strong family bonds. And finally, the use of the beautiful red book bag reminds children to read the books they've brought home in it.
By the Numbers
Here are just a few statistics to show you how successful Raising a Reader has been:
2,224 children have participated in Raising a Reader in communities everywhere from Parachute to Aspen and beyond

501 children and families have become part of our kindergarten program, which is especially focused on at-risk students

1,244 parents in the area have attended one of 50 small group parent sessions

As many as 85 children and parents have participated in weekly parent-child peer group sessions in low-income neighborhoods
Learn More about Raising a Reader at Glenwood Springs Subaru
If you're interested in learning even more about the new Raising a Reader program, you're invited to stop by our Glenwood Springs Subaru dealership anytime. We'll be sure to fill you in on the exciting details. Located at 175 Storm King Road in Glenwood Springs, we can always be reached at 888-826-1167 as well, or by using this online form, too. Raise a Reader right at Glenwood Springs Subaru today.