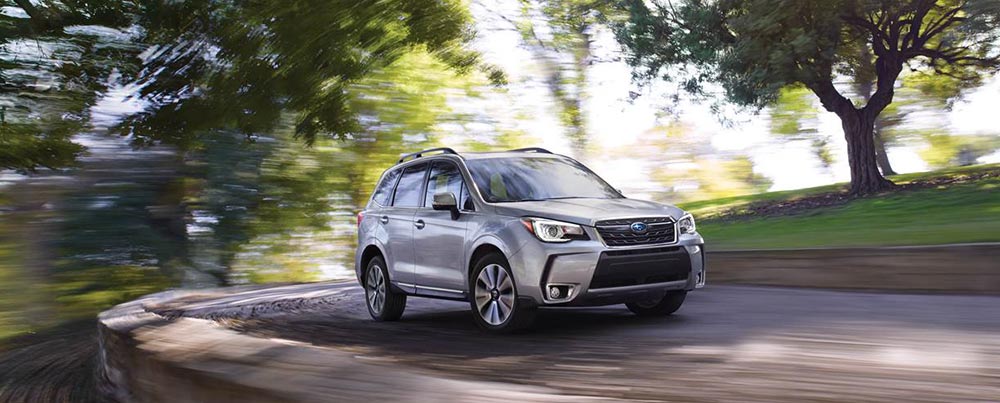 Okay. So you know that the 2017 Subaru Forester boasts some of the best-performing engines and highest rates of efficiency on the market today. Likewise, you know that this is an especially safe car, coming equipped with a selection of top-notch safety devices designed to keep you as secure as possible. At the same time, the Forester is also outfitted with an array of technologies to keep you and everybody else on board as engaged and entertained as possible. But did you know that the Forester also offers up a wealth of trim choice? Here's what we mean.
The 2017 Subaru Forester 2.5i
The 2.5i gives you a 2.5L Boxer 4-Cylinder engine that generates up to 32 mpg on the highway and up to 26 in the city, while also supplying standard Symmetrical All-Wheel Drive and Vehicle Dynamics Control, and optional aluminum alloy wheels.
The 2017 Subaru Forester 2.5i Premium
The 2.5i Premium gives you everything the 2.5i does-from the engine and standard driver assist programs, to the aluminum wheels-but it also gives you a standard panoramic moonroof as well.
The 2017 Subaru Forester 2.5i Limited
The 2.5i Limited adds on to the Premium leather-trimmed upholstery and an optional voice-activated GSP navigation system to ensure that you're never lost.
The 2017 Subaru Forester 2.5i Touring
The 2.5i Touring boasts a stunning exterior design as well as making standard almost everything available in the lower-level trims, including leather-trimmed upholstery, a moonroof, wheels, and more.
The 2017 Subaru Forester 2.0XT Premium
The 2.0XT Premium gives you everything already mentioned (with the exception of leather-trimmed upholstery), but it also boasts a 2.0L engine that gets up to 27 mpg on the highway and up to 23 in the city while also promising massive amounts of horsepower.
The 2017 Subaru Forester 2.0XT Touring
The 2.0XT Touring is the complete package: almost everything-including the upholstery-comes standard, and it promises the 2.0L Turbocharged engine that delivers up to 27 mpg on the highway and up to 23 in the city.
Explore the 2017 Subaru Forester Today!
Best of all, you can try any of these trims out for yourself simply by visiting our Glenwood Springs Subaru dealership! Located at 175 Storm King Road in Glenwood Springs, you can always reach at 970-945-7447 or via this online form, too. Wait no longer: experience the wide variety of Forester trims at Glenwood Springs Subaru!