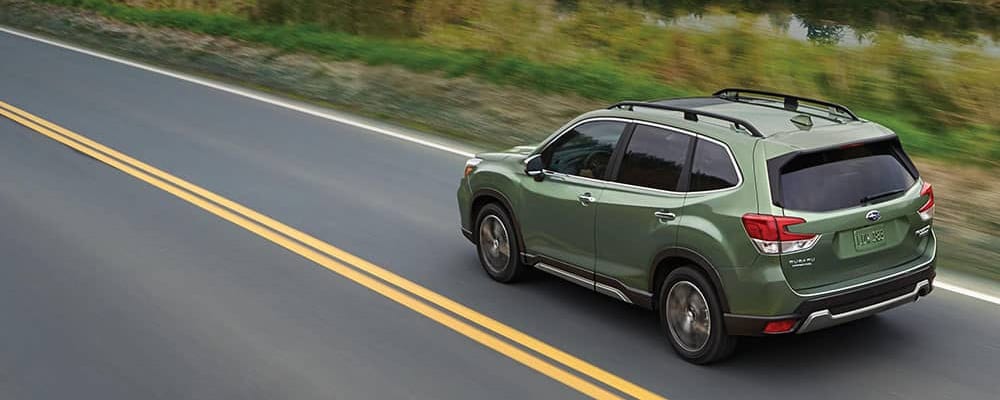 If getting to your favorite Vail destinations requires an AWD crossover, you have plenty of options from Volkswagen, Toyota, Chevrolet, Honda, and Subaru. But, if you're looking for a well-rounded vehicle with the right balance of handling, price, and available features, there's only one brand that gives you more, and we have the comparisons of the Subaru Forester and the competition to prove it.
Subaru Forester vs. Volkswagen Tiguan
The Forester and the Tiguan have almost identical base prices, but the Subaru offers standard AWD while Volkswagen drivers must pay thousands more for the feature. Other features standard to the Forester but only available as high-priced extras on the Tiguan include an anti-theft security system, active front head restraints, automatic climate control, and the convenience of a CD player. The Forester also provides cabin occupants up to 23 cubic feet more interior cargo volume for gear, making every trip more productive as well.
Subaru Forester vs. Toyota RAV4
Not only does the Subaru provide standard AWD, a feature that, again, costs more on the Toyota, it also delivers 6-hp and 4 lb.-ft. more torque, as well as giving drivers 3 mpg/city and 3 mpg/highway greater fuel efficiency than the RAV4. And, with 10 cubic feet more passenger volume in the Subaru and standard automatic climate control, those drives to Grand Junction will be much more comfortable.
Subaru Forester vs. Chevy Equinox
Again, the Subaru beats out the similarly priced Chevrolet with standard AWD and a powerplant that delivers 12-hp more than the Chevy. And, thanks to a fuel tank that holds an additional 2 gallons of fuel, Subaru drivers will be able to take that power farther between fill ups as well. If you're looking for a spacious crossover, the Subaru easily edges out the Chevy here as well, providing an additional 12 cubic feet of passenger volume and 6 cubic feet more space for parcels and gear. The Equinox is also missing the automatic climate control, CD player, active head restraints, and available front fog lights Forester drivers have access to.
Subaru Forester vs. Honda CR-V
The Subaru is 4:4 in providing standard AWD for the same cost as competitors 2WD models, but that isn't the only way the Forester Beats the CR-V. Subaru also provides 6 cubic feet more interior space, a standard CD player and standard active front head restraints, which flex up and back to help prevent severe neck and back injury in the event of a rear-end collision. Honda doesn't offer a whiplash-reducing system on the CR-V.
See the Subaru Forester in Person
To learn more about the Subaru Forester, or to schedule a test drive of your favorite trim and see how it compares to your current vehicle, schedule a test drive at Glenwood Springs Subaru today.