Explore the 2017 Subaru WRX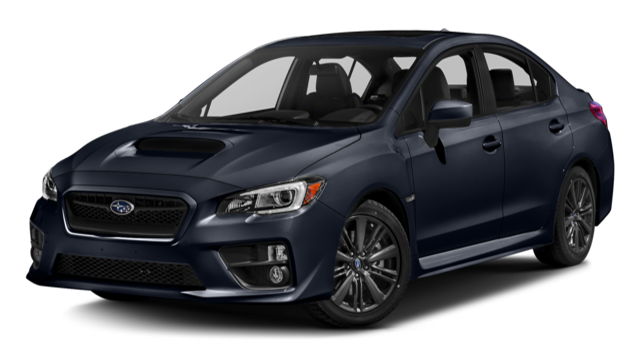 Ladies and gentleman, allow us to introduce you to one of the season's most exciting new vehicles, the 2017 Subaru WRX. Not only does this thrilling Subaru boast some of the very best in engine performance and power, but it also gives you the full range of exciting design perks and entertainment technologies while also coming equipped with the very latest, most advanced safety systems. Check out what the WRX has to offer in more detail by reading on.
Power and Performance
First of all, the WRX gives you an exciting spectrum of performance specs, including all of the following: (1) titanic engine power; (2) high fuel economy; (3) an efficient drivetrain; (4) solid transmission and suspension systems; (5) electric power steering; and (6) and a rigid unibody design. Let's get concrete, though.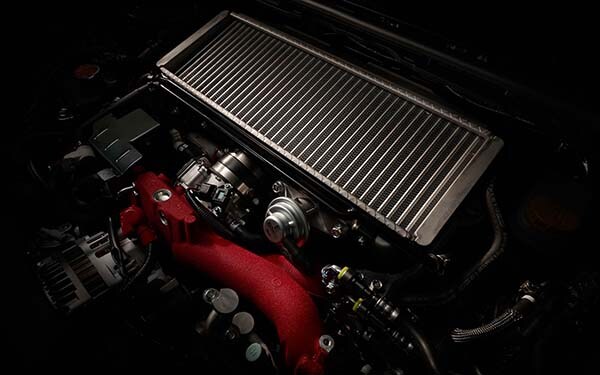 Engine Power
Let's start with engine power. Simply put, the WRX has a lot of it. On the one hand, you can opt for a herculean Direct-Injection Turbocharged engine that is able to generate as much as 268 hp as well as 258 lb-ft, while also boasting some truly legendary towing specs at the same time. However, if you're interested in amping it up even more, you should check out the Turbocharged SUBARU Boxer engine, which delivers 305 hp while also ensuring you 290 lb-ft of torque. Available in the WRX STI, the Turbocharged engine is just the first in a selection of performance-boosting devices that truly set this car apart.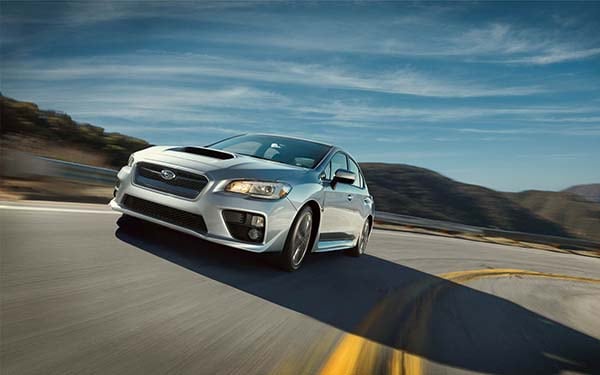 Excellent Fuel Economy
Now let's turn from power to efficiency. In many vehicles, it's one or the other. Yet the WRX is able to offer both a massively powerful drivetrain as well as solid fuel economy. For example, you'll get as much as 27 mpg on the highway and 20 mpg in the city with the help of the WRX's side-to-side pistons, which are able to cancel out each other's vibrations in order to maximize efficiency while also minimizing sound and giving this car an especially smooth drive, too.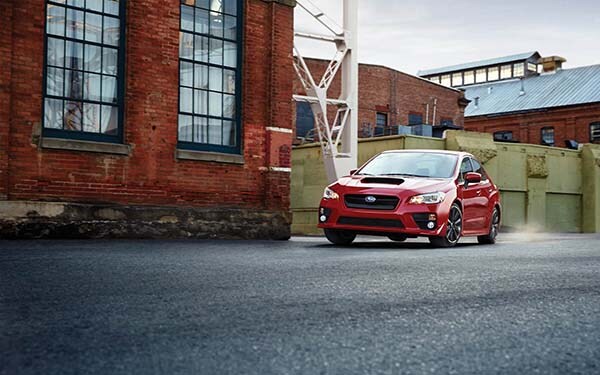 An Efficient Drivetrain 
At the same time, the WRX's impressive efficiency is also a product of its specially designed Symmetrical All-Wheel Drive system. With Symmetrical All-Wheel-Drive, the WRX, is able to increase its efficiency, but it's also able to maximize traction and optimize control by channeling its power to particular wheels and axles. Hence, whether you're caught in a
winter snow squall or a summer thunderstorm
, the WRX is going to handle weather conditions well while also ensuring smooth, responsive, dependable performance on the road.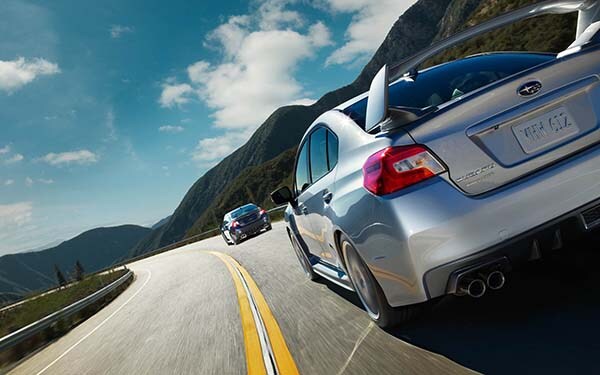 Transmission and Suspension
On the one hand, the WRX gives you a Sport Lineartronic Transmission that provides either 6- or 8-speed manual modes as well as paddle shifters and an SI-Drive as well to boost up this cars feel on the road and its fuel economy. At the same time, the WRX also gives you a track-tuned high-performance suspension system with phenomenal spring and damper rates as well as large and well-crafted front and rear anti-roll bars. All together, these systems work in tandem with Symmetrical All-Wheel-Drive to improve the WRX's performance even more.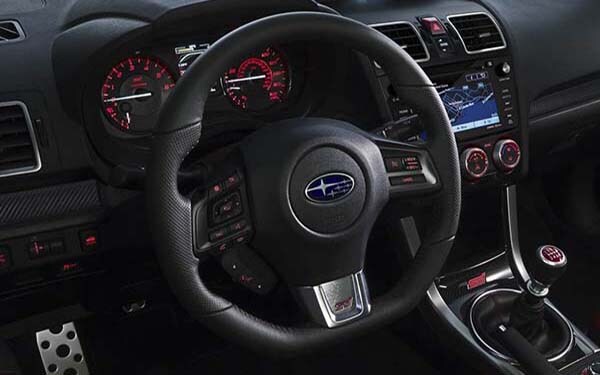 Electric Power Steering
At the same time, the WRX also features an impressive electric power steering system that boasts a 14:3:1 or 14:4:1 steering ratio. With its responsive, incredibly sensitive electric power steering system, you'll hardly have to devote any effort to turning the WRX's steering wheel, allowing you to turn as suddenly and as quickly as necessary. At the same time, the WRX's meticulously crafted electric mechanisms let you turn the wheel more easily than ever, while also maximizing mpgs by disposing of the far more heavy hydraulic steering system still standard in some cars.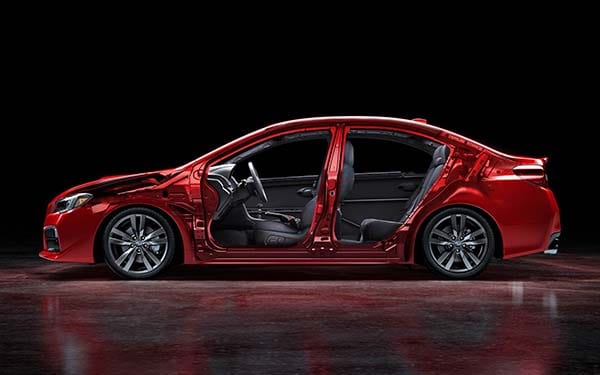 Rigid Unibody
Last but not least, the WRX also incorporates a rigid unibody design that improves this car's performance even more. By including reinforced suspension mounting points as well as boasting high-quality materials and design, the unibody chassis ensures that the WRX offers optimal suspension while also preventing there from being too much interior noise, no matter whether you're driving on the highway or just around town. Likewise, its unibody design also increases this car's already superb safety specs.
Design and Technology
Add on to top-notch performance specs a wide spectrum of design benefits as well as some of the very latest and most cutting-edge technologies to keep you and your passengers engaged on the road. In particular, the WRX boasts all of the following: (1) generous interior space; (2) a power moonroof; (3) sport-design electroluminescent gauges; (4) a stellar audio system; (5) STARLINK technology; and (6) a set of USB ports as well. Let's explore each of these offerings.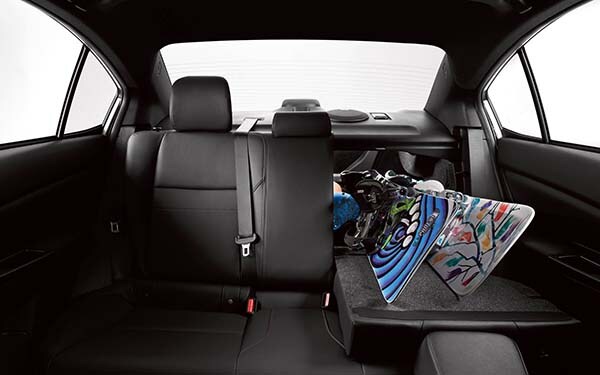 Interior Space
Banish the worry of ever running out of space. In the WRX, you're going to get as much interior room as you could ever want, with seating for five as well as 96 cubic feet of passenger volume as well, meaning that you're going to be able to stretch out and really enjoy the ride. At the same time, the WRX also lets you pack as much as cargo or luggage in as you could care to, providing as much as 12 cubic feet in the trunk alone. Finally, the WRX features 60/40 split-fold-down rear seats that are designed to make it possible for you to maximize space depending on whether you need more room for passengers or their bags.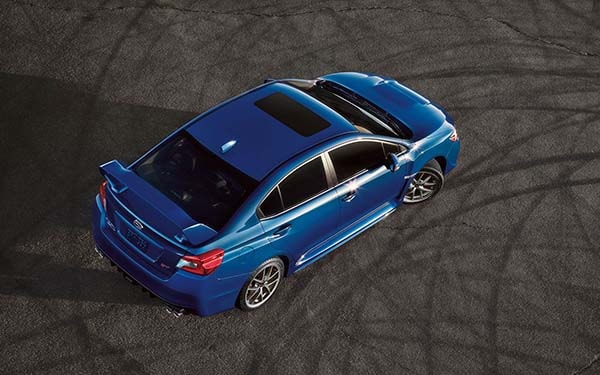 Power Moonroof
A luxurious addition to the WRX, the new power moonroof allows you and your passengers to enjoy those warm late-summer nights in your vehicle. Next time you're taking a night-drive through the mountains, just roll open the WRX's moonroof and let the moonlight fill the cabin in order to create a truly distinctive and unique ambience without the aid of any electric lights.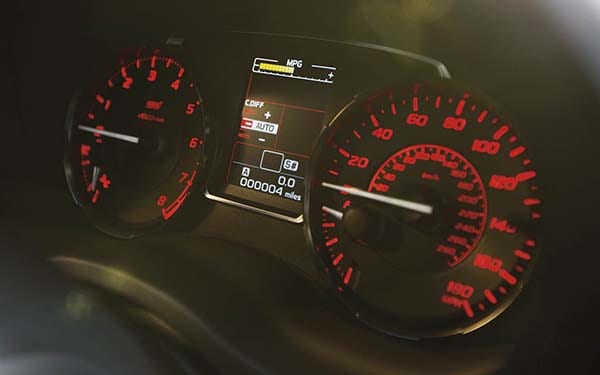 Sport-Design Electroluminescent Gauges
However, during those night-drives, you're still going to want to have access to your car's vital stats in as clear and accurate a form as possible. Luckily, the WRX's Sport-Design Electroluminescent Gauges ensure that your dashboard stats are as easy to read as possible, displaying them in bright, clear light. In the new WRX, there'll be no more searching around for important information in a dark cabin.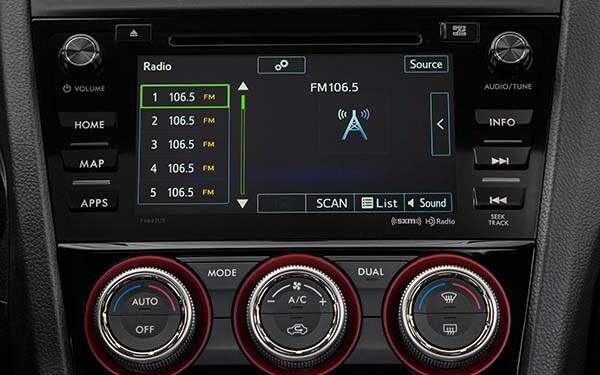 Stellar Audio
Add to all of this a powerful 9-speaker Harmon Kardon audio system that will keep the music blasting throughout the drive. Not only does it offer a 440-watt amplifier, but it also promises you some of the crispest sound of any available audio system. At the same time, you'll be able to enjoy a wide spectrum of streaming internet radio via Premium Audio and SiriusXM Satellite Radio, the latter of which gives you as many as 170 channels of music, sports, weather, talk, and pretty much whatever else you could want.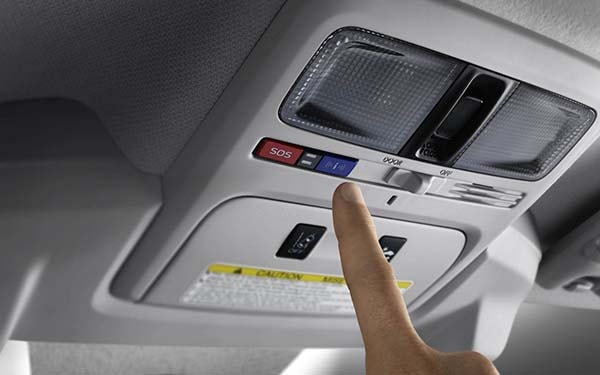 STARLINK Technology
STARLINK Multimedia is Subaru's cutting-edge entertainment system, putting information and connectivity at the very tips of your fingers. For example, you'll be able to rely on STARLINK's wealth of apps to locate theatre, restaurant, and other information in the blink of an eye, while you can also use it for help with navigation by asking it to generate route maps and give you location information. Finally, you'll be able to rely on STARLINK to connect your smartphone to your car, giving you access to all of your own music, maps, apps, and more.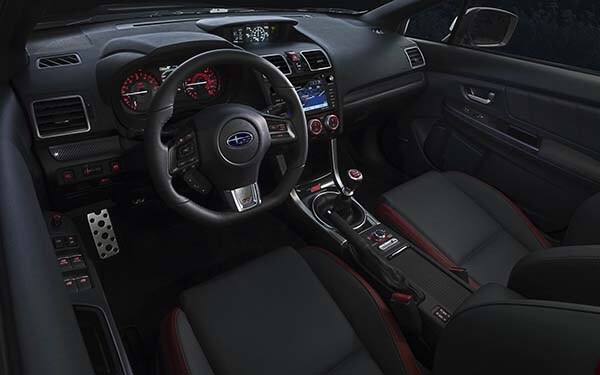 USB Ports
Finally, you'll be able to ensure that you're able keep your devices fully charged throughout the drive with a set of USB ports. Just plug your own or your passenger's smartphone into one of the ports and you can relax in the knowledge that you're never going to have to spend even a minute out of touch with friends or family or without that awesome new podcast that you've just downloaded to your phone.
Safety
Last but not least, the WRX is a notably safe vehicle, giving you a range of safety systems, including (1) Eyesight Driver Assist; (2) Smart Braking systems; (3) an Advanced Protection System; (4) Vehicle Dynamics Control; (5) Blind Spot Detection; and (6) Rear Cross-Traffic Alert. Check 'em all out by reading on!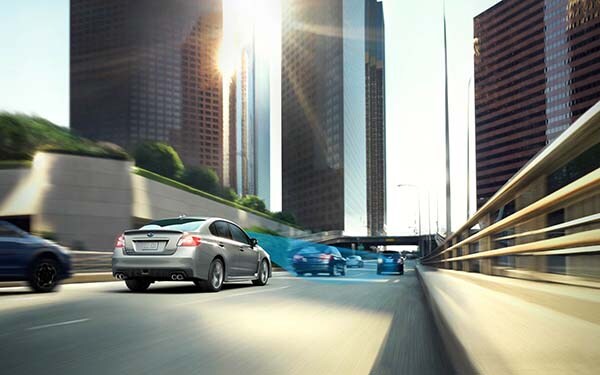 Eyesight Driver Assist
Much like other cars' Forward Collision Warning, Subaru's Eyesight Driver Assist Technology is able to survey the road ahead of you in order to determine whether any collision is imminent and then warn you in order to allow you to take the necessary steps to avert an accident. Using two cameras that are mounted on top of the rearview mirror, the WRX will scout around for danger and, in some cases-and only when necessary-even react by applying the brakes if it spots trouble and notices that you haven't responded appropriately.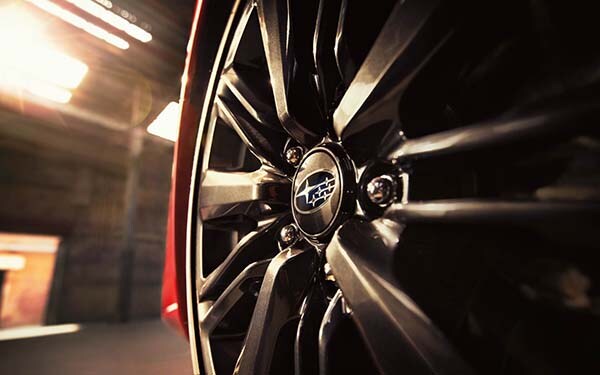 Smart Braking Systems
In addition to Eyesight Driver Assist, the WRX also offers up a wide selection of smart braking systems, including Anti-Lock Braking, Electronic Brake-Force Distribution, and Brake Assist. The first prevents any serious danger from arising out on the road by preventing your brakes from freezing up, while the second is able to channel certain amounts of brake force to different wheels based on the vehicle's speed and driving angle. Finally, Brake Assist gives your brakes a little extra oomph when they need it most-in cases of sudden, emergency braking.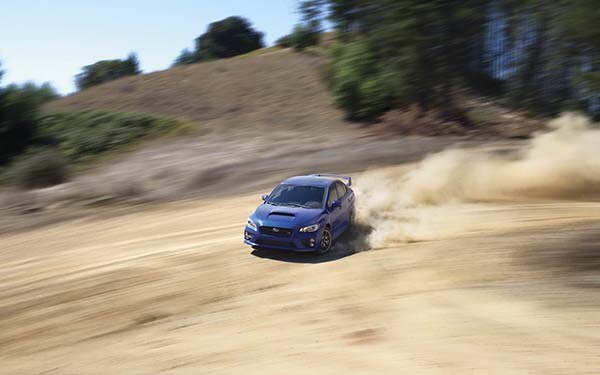 An Advanced Protection System
Of course, sometimes the brakes aren't enough to stop an accident. In such cases, you can rely on the WRX's Advanced Protection System, which offers up an excellent airbag system. You'll get, for example, sensor-deployed front airbags, front seat side pelvis/torso air bags, and side curtain airbags, as well as driver's knee airbags designed to give you the maximum of protection on the open road.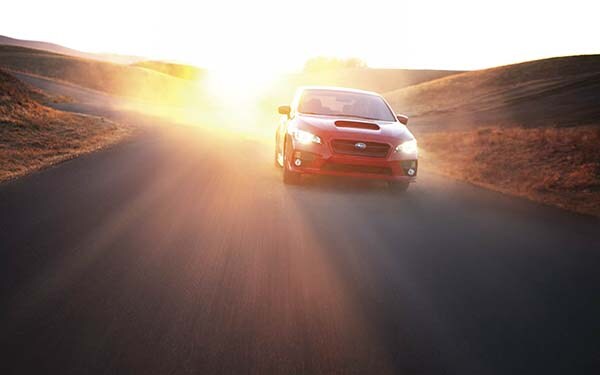 Vehicle Dynamics Control
Highway driving can be dangerous, especially when you're up in the mountains. Thankfully, the WRX comes equipped with Vehicle Dynamics Control, which is a system that can evaluate your car's speed, its turning angles, and other data in order to determine whether your steering direction and brake speed are out of alignment. When it discovers that they are, VDC attempts to harmonize them in order to maximize your stability and optimize your traction out on the road. This can be especially beneficial in winter storms or other treacherous conditions.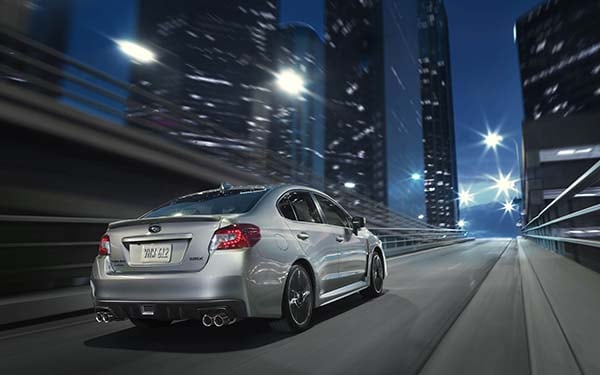 Blind Spot Detection
Along with Vehicle Dynamics Control, the WRX also gives you a Blind Spot Detection device that is able to keep a constant eye on your vehicle's blind spot, alerting you in cases when another vehicle is approaching your car but still invisible to you. By warning you of imminent threats from invisible areas, your WRX heightens your safety even more.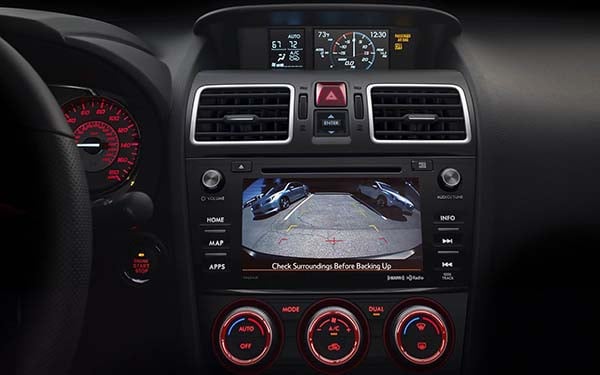 Rear Cross-Traffic Alert
Finally, the WRX's Rear Cross-traffic Alert works much like its Blind Spot Detection system in order to scout out and indicate to you the presence of invisible vehicles. In the case of Rear-Cross-Traffic Alert, the WRX can determine the approach of a car across your rear and warn you of it, allowing you to respond accordingly.